Welcome¶
Here you can find documentation for all of my tools.
Installation¶
All of my tools share the same installation process and the same "Hub" folder - BroTools/.
Unpack\Copy BroTools folder into any folder on your computer.*
Open Maya
Locate install.mel file inside BroTools folder. Drag and drop it over Maya's viewport and follow instructions on screen.
Accept the license and you will be taken to License Manager window. Follow its instructions to activate your license. You can read more about the activation process here
Enjoy!
* Using \Program Files\Autodesk* folder is NOT recommended. Also make sure to choose folder which you don't need Administrator's priviliges to access. If you have no preference, just use C:\Users\<user>\Documents\maya\BroTools
After installation you should be able to find my tools under BroTools menu in Maya's top menu bar:

If installation fails...
Make sure that you don't have multiple BroTools installations. Especially if one of them is in any of Maya's scripts or plugins folders. Multiple installations may create conflicts. Best approach would be to remove every BroTools folder on your computer, and try installing again.
If installation still fails...
First check the Troubleshooting\Known bugs page, but if you can't find your answer there - feel free to contact me if installation fails. Just send me a mail with as much details about the problem you encountered as you can, and I will try to my best to help you. Please include brotool.log and bro_startup.log files. I'm also interested in improving and simplifying installation process, and it was overhauled since version 2.0 of BroDynamics and BroTools EMail: support@brotools.tech
Updating¶
BroTools has built-in updater, which will compare your existing files with the server and download only the files that changed.
Alternatively you can update manually by downloading BroTools bundled version, removing all contents of BroTools folder, and replacing it with new version.
Using updater is recommended as it will make sure to clean up any redundant files.
BroTools uses "Rolling release" approach, where updates come out frequently and may include small bug fixes or new features. So it's recommended to keep your installation up to date to get the best experience.
Compatibility¶
All of my tools are compatible with Maya 2016 and up, with Windows, Mac and Linux operating systems, unless stated otherwise.
Preferences¶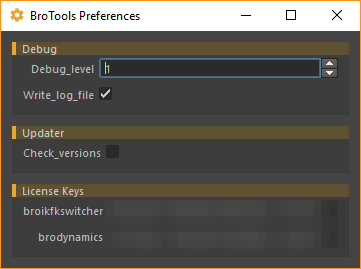 Under BroTools/Preferences you can find a few useful global BroTools settings.
Debug_level - controls debug output in script editor, value from 0 to 3. 0 prints all, 1 prints only INFO and above, 2 prints only warnings and errors, 3 prints only errors.
Write_log_file - Will write all maya logs into BroTools.log file located under BroTools folder. This file is cleared after each Maya\BroTools restart. This file is used by Bug Reporter.
Check_versions - If on, will check main BroTools package verion on startup. Alternatively you can use BroTools\Check for Updates to check if there were any updates for main BroTools package. It does not check for new versions of other installed tools.
Enterprise\Studio installation¶
BroTools supports installation in Enterprise\Studio environments, where installation directory is located in a network share. Often this means that users don't have write permissions to this folder, and even if they do multiple users changing their BroTools\BroDynamics settings may interfere with each other, not to mention potential file lock issues.
Installation process is the same, the only change you need to do is set BROTOOLS_CONFIG_PATH environment variable on client machines. This path will be used by BroTools to store all it's changing data, config files and logs. Make sure user has write permissions to this directory.
Default recommended paths for BROTOOLS_CONFIG_PATH for network installations are:
Windows: C:\Users\<username>\Documents\maya
MacOS: ~<username>/Library/Preferences/Autodesk/maya
Linux: ~<username>/maya
You will need to start BroTools once from a machine with write access to that folder, so that you can acquire you license file.
It is also possible to perform individual local installations for each workstation, without using networked drive, and copy license.key file to each machine into BroTools folder after activating it on one machine using Network license install. You will, however, need to renew this key every once in a while, according to your license option.